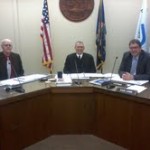 Riley County Commissioners found out about Senate Bill 436 Wednesday, and therefore discussed the piece of legislation during their meeting on Thursday.  The proposed legislation would amend the statute involving police department director positions to be elected instead of appointed by the Law Board.
Commission Chair, Robert Boyd said "we were surprised to find out it had come out of the Senate, because it hadn't been talked about before.  I don't think any of us have debated it at all."
Commissioner, Dave Lewis added, "it comes as a complete surprise to me".
Lewis and Boyd seemed to agree that they do not see any problem with the current process, but are open to hearing thoughts about the matter.  Commissioner, Ron Wells mentioned he sees both sides of the topic, as "there are two sides to every story".
————————
Several capitol improvement project items were activated during the CIP work session.  Numerous department heads were in attendance for the discussion, to provide input on the items they needed the most.
The following projects and purchases were activated:
Cico Park exercise trail-$20,000
tandem axle truck-$225,000
noxious weed pull type mower-$14,000
noxious weed mower-$58,000
design costs for one culvert-$35,000
repair fuel pump head sump-$15,000
replacement vehicle for appraiser's office-$22,000
1 1/2 ton spray truck for noxious weeds-$70,000
pack/roller/lift motor grader-$45,000
3/4 ton Parks 4×4 pickup-$26,000
shop fence site-$25,000
With all of these projects activated, this leaves $5,000 left in the fund.
————————
County Planner, Bob Isaac presented a replat request for the Briggs Auto site, which was approved unanimously by the commission.