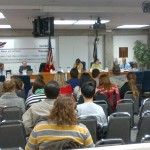 Manhattan/Ogden USD 383 School Board members viewed two options on how to deal with the recent Kansas withholding tax error that impacted 21% of school district employees.
The first option was a salary advancement for affected teachers, and the second was a Kansas Tax Penalty Reimbursement.
The board unanimously approved both options so impacted teachers could decide on how to proceed with their own situations.
Board President, Curt Herrman; Superintendent, Bob Shannon; and Director of Business Services, Lew Faust all apologized for the tax error and said they are working to make sure something like this never happens again.
———-
Only one item of "old business" was on the agenda.  The Manhattan Virtual Program has been discussed during the past few board meetings, and the board approved the program for the upcoming school year 7-0.
———-
Superintendent, Bob Shannon announced the hire of a new principal for Northview Elementary for next year.  Cleion Morton will be taking over the position for the 2014-2015 school year.  Morton is currently the principal of Mill Creek Valley Junior High & Middle School in Paxico.
———-
Next year's school calendar will begin on a Tuesday, instead of a Wednesday like this year.  The full calendar was adopted unanimously by the school board.
Although there were some minor changes, the changes were not nearly as significant as last year's changes, according to Associate Superintendent, Bob Seymour.
———-
The Susan B. Anthony Middle School Math Counts Team was recognized by the board.  This marks the fifth consecutive year that the team has won 1st place in the regional math counts competition.
They will head to the state competition on March 8th.