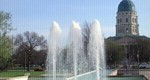 Updated 3 p.m. Friday:
Governor Sam Brownback, joined by Attorney General Derek Schmidt, Senate President Susan Wagle and House Speaker Ray Merrick and other legislators responded to the Kansas Supreme Court ruling on the Gannon vs Kansas case.
"We have an opportunity for progress," Governor Brownback said. "My commitment is to work with legislative leadership to address the allocation issue identified by the court. We will fix this." The court has set out steps for the legislature to end the lawsuit by July 1, 2014. It affirms the Constitutional requirement for education to be "adequate" and "equitable."
"Our task is to come to resolution on capital outlay funding and local option budgets before July 1," said Senate President Wagle. "We now have some clarity as we work toward resolution of issues that began years ago under prior administrations."
"I was pleased the court also recognized that total dollars spent is not the touchstone for adequacy in education," said Speaker Merrick. "Our focus is on supporting teachers and improving student outcomes so that all Kansas children continue to receive a quality education."
Updated Noon Friday:
Reaction began to come in shortly after the Kansas Supreme Court issued its opinion Friday morning in Gannon v. State in which the high court indicated current funding levels for education are unconsitutional.
Manhattan/Ogden USD 383 released the following statement on the ruling saying: "We have received the Supreme Court's ruling and are reviewing it.  It is a complex legal decision.  We expect a summary analysis from the Kansas Association of School Board's legal department.  We anticipate further legal and legislative developments on this matter."
Riley County's USD 378 Supt. Brad Starnes said "Anytime decision are made in the best interest of the students, then we all win, that it truly is an investment as far as in our futures, and what happens with us in regard to our workforce and to our future." And Starnes adds, "From that regard I think it's very positive. "
A statement was also released by Kansas Governor Sam Brownback who said: "This is a complex decision that requires thoughtful review. I will have a briefing with the Attorney General and will hold a press conference later today. I will work with leadership in the Kansas Senate and House to determine a path forward that honors our tradition of providing a quality education to every child and that keeps our schools open, our teachers teaching and our students learning."
KNEA issues this statment"
Topeka- We are disappointed that today's announcement by the Kansas State Supreme Court prolongs a resolution of the school finance issue. It didn't deal directly with the current critical need in Kansas public schools. Together, the citizens of Kansas made sacrifices at a time when the state and national economy were in crisis. During that time Kansans came together and dealt with staggering cuts to education, believing the promise of full restoration to public school funding once the state economy had rebounded.
In 2011, Governor Brownback touted a state in full recovery and praised the Kansas Legislature for making our state strong. He also spoke of the need to end "sacrificing the future of our children" and the need to get school funding dollars out of the courts and into the classroom. The sacrifices and funding cuts were supposed to be temporary, but the first opportunity to live up to the promise to restore funding came and went. Instead, a tax policy was enacted that cut taxes for the wealthy and shifted the responsibility to the middle class and poorest Kansans. At the same time, we saw the largest cut to public education in state history.
While it didn't rule on adequacy, the court reaffirmed the inequity in our school funding. We know Kansas schools are suffering from inadequate resources, and some have fewer resources than others to serve our children, thus the equity ruling. Some are threatened with closure, and some are filled with overcrowded classrooms while teachers and support professionals have been laid off. Some schools no longer offer free tutoring after school and summer school, necessary supports for our struggling students. Some schools have reduced elective courses like art and music in an effort to save money. Parents are asked to pay more out of pocket to enroll their children, and the resources needed for the highest quality education possible have been stripped from school budgets.
There's no need to wait for additional rulings–these losses need to be rectified. Education is an investment in the future—in the economy and quality of life for Kansas citizens. Education gives all children a chance for a bright future. And businesses value a highly skilled, highly educated workforce above all other factors when looking for a location.
What we need to do now is move forward together and make the necessary funding available in a responsible manner. We don't need threats to cut funding to vital social services, rob retirement pensions, and cut aid to higher education. Public school students are still sacrificing, and the solution is obvious. Simply, find a responsible way to fund all public schools adequately as was promised.
The time for inaction has passed. Kansas students now rank 4th highest in the nation in cuts to their education. Is this the legacy that the Governor and the legislature want to leave our children? Is this the message Kansans want sent to businesses that would bring good jobs to Kansas if only we invested in a highly educated, highly skilled workforce?
We know the answer to these questions is a resounding no. So today, we call on Governor Brownback and the legislature to move forward in funding public education adequately and equitably. Stop actions that threaten to diminish quality public education and simply restore critical funding to our schools. Live up to promise that we all heard, and let's move forward together.
###
(AP)-The Kansas Supreme Court says the state's current public school funding levels are unconstitutional.
In Friday's much-anticipated ruling, the court said Kansas' poor school districts were harmed when the state made the decision to cut certain payments when tax revenues declined during the Great Recession.
The court also sent the case back for more review to determine what the adequate amount of funding should be.
The lawsuit was filed in 2010 on behalf of parents and school districts who argued the state had harmed students because spending cuts resulted in lower test scores.
State attorneys maintained that legislators did their best to minimize cuts to education.