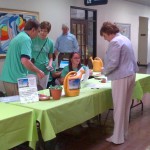 28 non profit organizations were featured during last year's Grow Green Match Day event, and this year the number grew to 32 non profits.
For a 12 hour period on Tuesday, representatives from non profit organizations  were located in the Colony Square Atrium, at 555 Poyntz Avenue, helping individuals to make donations.  When a donation was made, the Greater Manhattan Community Foundation "grew" it by 50%.
Last year was the first year for the event, and President and CEO of the Greater Manhattan Community Foundation, Vern Henricks said they raised $141,000 for non profits.  Their goal for this year was to beat $200,000 since there are more non profits participating.
The one major new aspect of this year's match day, was that donations could be made online.