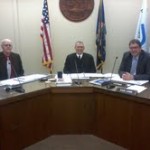 Thursday's Riley County commission meeting featured a full agenda of updates from department heads, and a few items to be decided on.
County Corrections Director, Shelly Williams kicked off the meeting with information on a statewide policy they have been working on with District Court Judge David Stutzman.  After months of collaborating together, Stutzman decided he did not want to wait on the legislative process, as it takes a long time to change existing laws.  Instead, Stutzman proposed "Probation 180".
A similar policy is currently in place in Hawaii.  This policy grants corrections the power to charge repeat criminals with immediate consequences, while the current law requires judges to make that decision.  Rather than the criminal having a 50/50 chance of being charged, this immediate consequence policy has proven to lower crime rate.
Williams mentioned, many times it only takes two or three short jail visits for the criminal to stop repeating the same offenses.
County Corrections is working with other entities on this matter, including Pawnee Mental Health Services.  There are currently eight offenders on "Probation 180".
Commission Chair, Dave Lewis shared information with Williams on Saline County's recent decision to close their juvenile detention facility.  The juveniles from that facility will be coming to the NCK facility in Junction City.  Lewis expressed a concern with possible overcrowding, as there are only 26 beds in the building.
Williams recommended waiting a year to see how it goes, before making decisions on expanding the facility.  She stated, "there is no point in wasting money if overcrowding does not occur".  She reassured the commission, her staff will be keeping a close eye on that situation.
————
Another appraisal year has come to a close, and County Appraiser, Greg McHenry provided some end of the year numbers.
414 informal appeals were scheduled with the county office this year:  198 residential, six agricultural, 28 farmstead, 117 commercial and 65 vacant land.
The number of building permits, through April 30th, was slightly higher than the number seen in April 2012.  The number of residential home sales, and the median sale price for homes, were two other increased figures.
————
Planning/Special Projects Director, Monty Wedel took the time to update the commission on K-18 and Eureka Valley.  Wedel provided a map of the projected outcome of the K-18 project, and mentioned a few heavy traffic points they are currently trying to take care of.  One of those heavy traffic areas is around Manhattan Regional Airport.
Wedel also shared the annual review of the county solid waste management plan.  The commission unanimously approved the plan.
The commission approved three other items during the first half of the meeting:  the Joe Moore lagoon appeal, a previously presented zoning amendment and a resolution for the appellate process for preliminary or final waste water treatment plan.
————
Concealed carry and lack of space seemed to be the two big topics of discussion during the second half of Thursday's commission meeting.
Chief Judge, Meryl Wilson was in attendance during the meeting to give his input on House Bill 2025.  This is better known as the concealed carry bill, and could feature major changes as of July 1st.  Wilson said, with over 300 people coming in and out each day, this is a concern, especially as many of them don't want to be there and aren't "happy campers".
"As Riley County grows, so will the court load.  We already need another judge with our current case load, there's just nowhere to put another judge" Wilson stated.
The commission discussed, the courthouse is over 107 years old and has five exits.  This makes the building extremely difficult to secure, and out of date.  If the building is able to be secured, Commissioner Robert Boyd recommended seeking professional help to secure it.
The bill states that the commission has the opportunities of exemption.  Wilson gave recommendations of what to exempt and how to secure the building, including security camera and panic button installations, but the commission chose to revisit the issue after researching the topic further.
————-
Lack of space has been a topic discussed during previous commission meetings, and the issue somewhat coincides with the concealed carry issue, as changes in facilities are detrimental.
Commissioner Boyd mentioned the Farm Bureau building is underused and will possibly be up for sale in the near future.  Boyd recommended the commission look into that option.  Commission Chair, Dave Lewis said the public had previously decided it would be best for the county departments to stay downtown, but said it's worth looking into.
The space issue will be discussed in detail during the county official's retreat, which is set for sometime in August.