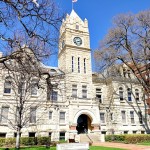 A home invasion case has led to a 73 month sentence for a Manhattan man. Levertis Horne was sentenced to the approximate six years by Judge John Bosch.with 36 months of post release supervision–and good behavior considerations to be monitored while he serves time with the Kansas Department of Corrections.  The base sentence of 41 months for the aggravated battery charge is to be served consecutively with the two attempted aggravated robbery charges which drew concurrent 32 month sentences.
The case involved an October 2012 case, with Horne found guilty last month in a second trial–his first trial resulted in a hung jury.
Taking the stand Tuesday were Dr. Jon Sward, a licensed clinical profession counsellor who evaluated Horne, and Horne's mother. Sward argued Horne has issues with marijuana, pills, and likely alcohol and needs substance abuse treatment, which is not readily available in most corrections facilities.
Riley County Senior Deputy Attorney Barry Disney argued leaving the defendant on the street endangers the community, reminding the court the jury found Horne had shot someone and had gone there prepared to commit a crime, with several victims affected.
Horne also made a statement, apologizing for his actions and asking for a chance to prove himself as an upstanding citizen.
Defense Attorney Brenda Jordan asked for a durational disposition departure, with 36 months probation and very strict guidelines to include substance abuse treatment. Disney suggested an 86 month sentence.
Disney quoted Mark Twain who said the best prediction of the future is the past–when referring to Horne's substance abuse problem and anger issues. Jordan maintained the quote has merit, but used it to say in his 20 years of life prior to the incident, Horne had not had any prior cases similar to what she called the "stupid night," the night the home invasion occurred.
But Judge Bosch found the case was inappropriate for probation and that there were no compelling reasons to depart from the durational sentence.
Horne's convictions included aggravated battery, two counts of attempted aggravated robbery, and aggravated burglary, with three victims named.