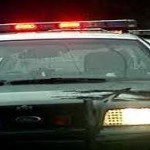 Update: Noon Thursday
The early morning slick roads (Thursday) led to several accidents in the Riley County area, with 10 accidents being worked at the same time during the eight o'clock hour and one closing the K-18 bypass near Ogden for a while. That number was down to five accidents a half hour later, with two coded as involving injuries, but the injuries did not appear to be significant according to Riley County Police Public Information Officer Mat Droge. At noon Droge indicated a total of 15 accidents.
Droge says while the slick roads weren't as visible as actual snow or ice, it serves as a reminder to motorists. Droge adds it doesn't hurt to take that extra time, especially since it may save you from having an accident.
 Accidents were also reported in neighboring Pottawatomie and Geary counties.
##
Numerous slide-offs and accidents, some involving injuries, have been reported in the Manhattan area since about 7:30 Thursday morning, with roads getting slick.
KMAN earlier told you about an apparent injury accident on the K-18 by-pass on the Kansas River Bridge near Ogden, with several cars in ditches. There's also been word of another injury accident involving a semi near Randolph. Manhattan Regional Airport Director Peter Van tells KMAN of a slide-off near Britts off scenic Drive.
There are also reports of problems on I-70. and Pottawatomie County reports a non-injury accident on K-13 north of the dam.