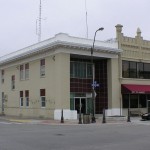 Security concerns are prompting Wamego to make software upgrades. At Tuesday's City Commission meeting, City Manager Merl Page said the City has offered an automated payment option for utility bills for some time, but due to tighter Federal regulations requiring enhanced security, they now need software to allow ACH transactions. Page said the cost of the software upgrade is 35-hundred dollars, but it will allow customer ACH transactions in a more secure manner. Approval was given.
In other business, Page said the City's health insurance renewal notice was received with an increase of less than 10 percent. He said the current policy meets all the requirements of the Affordable Care Act. They will be renewing with Blue Cross/Blue Shield for another year.
The Commission tabled the technology needs to handle local 9-1-1 calls for further review. Page said he was surprised the local dispatch center received over 13,000 calls last year. It was noted that not all were true emergency calls, but still went through the center.
And Wamego receives another Gold Star. Page announced receiving the 2013 Gold Star from the Kansas Mutual Insurance Trust, the Workers Compensation provider. The award recognizes Wamego s efforts in safety training and practices that result in reduced accidents. The other benefit is a 5 percent discount on Workers Compensation Insurance premiums.
In other business, the Commission gave their blessing to Larry Eckert from Illinois, known as the Flag Man, who goes around the country placing 16-hundred flags along the funeral procession route of fallen soldiers killed in the line of duty. Page said an area soldier was killed in Afghanistan and notification will be coming shortly about the funeral. As KMAN news reported Monday, U.S. Army Sergeant First Class Forrest Robertson, of Westmoreland died on Sunday in Logar Province in Afghanistan.
The Commission accepted the resignation of Lois Cook, who has served over 17 years on the Hospital Board. Commissioner Bill Ditto said she is a wonderful community volunteer, and Mayor Bob Morse thanked her for her service to the community.