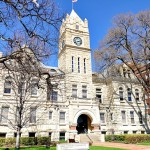 Exactly one year after the incident took place, former Fort Riley Soldier, George Ferenz (30) was sentenced Monday afternoon in Riley County District Court.  Ferenz was found guilty of two counts of aggravated criminal sodomy and two counts of aggravated indecent liberties with a child, last month.
Ferenz's Attorney, Scott Toth first addressed one of the aggravated criminal sodomy charges.  Toth stated, "the verdict is inconsistent with the evidence presented".  He added that since there was no evidence in the trial regarding 'touching' in the shower portion of the incident, Ferenz should not have been found guilty on this charge.
Prosecuting Attorney, Barry Disney said it was addressed in closing, as well as in the video shown.  The young victim mentioned this portion of the incident during her interview at the child advocacy center, which was filmed and showed to the jury.
Judge Wilson agreed with Disney, and denied the motion for acquittal and the motion for a new trial.
In Toth's request for sentencing, he shared three factors which should be considered when setting Ferenz's sentencing:  Ferenz had no criminal history, the victim was not physically harmed, and Ferenz was a productive member of the community, as he served in Afghanistan and took great pride in being a soldier.  He also requested the sentences should run concurrently rather than consecutively.
Toth added, "he deserves to have an opportunity to get out of prison at some point and see his son, who will be an adult at that point".
Ferenz provided his closing statement:
"Allow me to begin by stating that I fully understand how sensitive the subject of my conviction is. I am speaking to you as a student, an awarded veteran, and most of all as a dedicated father; I am innocent. I entrusted my innocence to fellow peers expecting a fair verdict deduced from the entire case presented: and not off of personal emotions and sympathetic feelings. However, I feel that because of the strong emotional factors present in this case, the jury was unable to recognize the lack of evidence, perjured statements and changes in testimonies, as well as the use of terms during the prosecutions' case that were contrary to official medical reports. Your honor, I have a life to live and I feel that my son should not grow up without his father due to these false accusations. I am an outstanding American citizen, hardworking, and a loving, caring parent with a healthy relationship waiting for me. I have various healthcare needs which are eligible for treatment via veteran benefits, and financial obligations which are continuing to mount until I am free to oblige them. My ultimate objective is acquittal of these false charges; a fulfillment fit for an honest man. I am desperately pleading that you consider using your superior judgment in evaluating this conviction more closely."
Disney stated that although the physical harm can not be seen on the young victim, the emotional harm can.  He mentioned the girl has lost all of her friends, as she has been to three different schools since the incident.
"The defendant's actions have destroyed this entire family", Disney said.
Judge Wilson sentenced Ferenz to life in prison, with a minimum 25 year parole, for each criminal sodomy charge, as well as life in prison, with a minimum 25 year parole, for each indecent liberties with a child charge.  All four of these sentences will run concurrently.