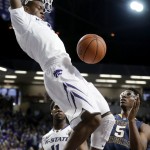 Shane Southwell and Thomas Gipson scored 20 points apiece and Kansas State shook off a slow start with smothering Defense and timely scoring in a 78-56 victory over West Virginia in Big 12 Basketball action Saturday afternoon at Bramlage Coliseum.
The Mountaineers, coached by former K-State Coach Bob Huggins jumped out to an early 8-3 lead in the game's first three minutes and things didn't look much better when Freshman sensation Marcus Foster went to the bench with two fouls in the first seven minutes. However, Southwell and Gipson carried the Wildcats on their backs and proceeded to help K-State outscore West Virginia 34-16 for the rest of the first half. The Wildcat Defense held West Virginia to six first half field goals and three over the final 17:05.
Much like Kansas State has done in some victories this season, the Wildcats expanded their lead as the second half began. K-State outscored West Virginia 8-1 in the first two minutes of the half for a 45-28 advantage and that would be as close as the Mountaineers would get the rest of the way.
Despite missing most of the first half, Foster had another strong outing with 15 points and Jevon Thomas continued to contribute with a game-high eight assists. Eron Harris led West Virginia with 21 points and Juwan Staten added 16.
Adding to the excitement of Saturday's win was a halftime ceremony honoring the 1964 Wildcats, the most recent Kansas State team to reach the Final Four. 14 members of the team including their head coach 91-year old Tex Winter were on hand for the ceremony and were greeted with a hearty ovation from the sellout crowd.
Kansas State (14-4, 4-1) will play their next two games on the road starting with a game at Texas Tuesday night. Tipoff is at 6 p.m.
Stay connected to all things KSU on the go just text EMAW to 88474
For full video wrap-ups, including analysis, highlights, coaches & player interviews of K-State Football & Basketball check out PowerCatGameday.com