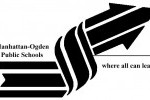 Each Manhattan Ogden USD 383 school board member indicated they have received "overwhelming" amounts of emails, phone calls and voicemails regarding the non-discrimination policy that was approved a few weeks ago.  During Wednesday night's meeting, the topic was brought up again, in order to discuss adding a gender identity and sexual orientation statement.
All of the board members seemed to be thankful for the input, whether it was positive or negative.
Five individuals chose to speak during the discussion.  A Kansas State University student shared his story of finding out he was gay, and how he dealt with it.  Another woman spoke about not having a lesbian teacher until she was in her 60's, which made it hard for her to see that she could excel at that profession.
While many were in favor of the additional policy statement, one woman was against it.  The woman said, "I don't find this policy being able to handle what's coming your way".  She mentioned that she believes parents should be the ones to teach their children about sexuality, not teachers.
Board members seemed to have differing opinions on the issue as well.  Most were in support of the statement, especially after the abundance of input on the issue.
Two board members had other thoughts on the matter.  Member, Darell Edie said "when you start these discrimination policies, where do you stop?"  Member, Marcia Rozell had the same thoughts, as she believes the statement could just say 'we don't discriminate, period'.
The proposed addition to the existing policy passed on a 5-2 vote.  After the votes were in, the audience applauded the school board.
——————-
A few special recognitions took place during the meeting.  Northview Elementary representatives were at the meeting, as the board highlighted the school for being recognized by Kansas State Department of Education for the Spotlight Award for Social, Emotional, and Character Development.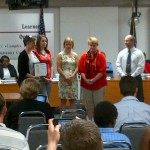 National History Day participants were also recognized, as well as the Manhattan High School orchestra for their recent achievements.