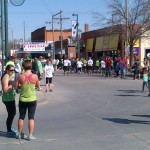 Aggieville played host to the 36th Annual Saint Patrick's Day Road Race on Saturday morning.  The event began at eight that morning with registration and packet pick up.
At ten o'clock, the fun run and untimed two mile walk began at the corner of Moro and 12th Street.  These events were designed for non-competitive runners and walkers.  Once that race kicked off, the 10K road race began soon after.  Numerous participants dressed in green attire.
Awards were presented in Triangle Park after the race concluded.  Results can be found by logging onto LetsGoRun.com.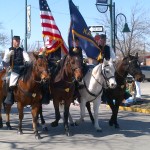 The St. Patrick's Day parade began at two o'clock, and weaved through Aggieville.  Parade-goers viewed fire engines, antique cars, floats, wagons, and horses.  Participating groups included boy scouts, girl scouts, special olympics, the Humane Society, and Little Apple Mommies.