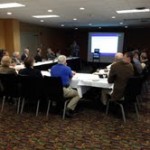 Only a few months before Kansas Department of Agriculture employees begin to move into the new building at Research Park off North Manhattan Avenue. Greg Lohrentz, Chief Operating Officer and C-F-O for the Kansas State University Foundation, updated Intergovernmental leaders in Manhattan Monday. Lohrentz says the project is done early and under budget.
Carpet is beign put in at the building and Lohrentz says furniture will be moved in during April, with some final punch list items in May, and move in by employees in June.
And Lohrentz says Research Park is being considered as a whole for future development prospects.
Lohrentz also talked about possibilities at the corner of Kimball and Denison, with a lot of thought involving the College of Agriculture and University for the best use of land in that location.
During the intergovernmental meeting City Manager Ron Fehr talked about plans for improvements on North Manhattan Avenue,  with hopes to begin work in the summer,making a stretch of that road near the research park four-lane.
It's been a difficult year for Riley County when it comes to bills being considered by the state legislature, and County Counselor Clancy Holeman addressed intergovernmental leaders Monday regarding some of his concerns. 
Holeman focused on three bills, including the frequently mentioned repeal of the mortgage registration fee. And that will mean a big shortage in revenue for the county
The other two presented by Holeman include the fixtures or commercial and industrial machinery and equipment bill–which he says actually has had some good changes, with compromises involving counties and the state chamber of commerce… and the so-called "COTA to BOTA " bill dealingwith freezing property tax values in certain appraisal cases.
 The intergovernmental meetings include representatives not only from Riley County, but also from the City of Manhattan, USD 383, Kansas State, Manhattan Area Chamber of Commerce, and Fort Riley.