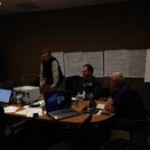 Foot and mouth disease is scary, particularly if you're a farmer–and state authorities continued with a two day emergency drill with that scenario in Manhattan Thursday the Biosecurity Research Institute on the K-State campus.
Mary Soukup, Communications Director with the Kansas Department of Agriculture, addressed reporters, including KMAN and a representative from "Modern Farmer" magazine based in New York, announcing that in the drill, the Kansas State football game had been cancelled. Soukup mentioned the 50,000 people and associated traffic could cause problems. Soukup admits to some irritated community members in that make believe world.
 Dr. Bill Brown, who serves as the Kansas Animal Health Commissioner, would likely be the first one to hear of such an outbreak…and admits the drill has been realistic.
The only drawback is the U.S. Department of Agriculture has not been able to take part, due to the very real partial government shut-down. 
The exercise costs more than $100,000, with much of the funding from federal grants. It involves more than 200 people and pulls together agencies from within Kansas, as well as industry and agencies from other states.Sandra  Johnson, Emergency Management Coordinator for the Kansas Department of Agriculture,  says the exercise began with notification of a possible instance of foot-and-mouth disease, a highly contagious pathogen that can infect livestock. It had spread to Woodson and Riley County toward the end of the drill.