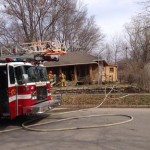 Update-8:45 a.m. Wednesday
Manhattan Fire Department crews say the fire cause was accidental, as an appliance malfunctioned.  The estimated fire loss is $120,000.
original story
The Manhattan Fire Department was dispatched to 1318 Pierre Street for a report of a structure fire at 9:44 a.m. Tuesday. Upon arrival, crews found a single story residential structure with smoke coming from the attic vents on the roof. Firefighters entered the structure and located the fire in the attic. The fire was quickly confined to the attic area and extinguished. Seven fire apparatus and twenty three firefighters responded to the fire and the fire reached a Second Alarm before it was contained.
The building owner is listed as Vanessa Davis of Manhattan. The structure was occupied by a dog at the time of the incident, and it was removed safely from the structure.
Fire crews are currently still on scene (at noon) extinguishing hot spots and performing salvage and overhaul. The fire cause is under investigation at this time and the thirteen hundred block of Pierre remains blocked by fire apparatus.