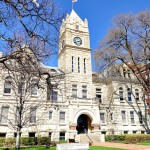 After two snow days, Riley County District Courts were opened again Thursday and the Levertis Horne trial could finally resume.
Horne is accused in the home invasion case back in October of 2012.  He faces two count of aggravated robbery, two counts of attempted aggravated robbery, aggravated burglary and aggravated battery.  During this incident, authorities said a K-State student was shot in the upper torso.
This is Horne's second trial, as the first concluded with a hung jury.
The K-State student who was shot during the incident appeared to be Chase Cargile.  Prosecuting State Attorney, Barry Disney questioned Cargile about events that occurred throughout the entire evening, beginning with marijuana sales.
Cargile stated he had a pocket knife in his back pocket during the marijuana sale portion of the evening, and the blade was facing upwards.  When Horne reportedly threatened Cargile with a gun, Cargile attempted to stab Horne with the pocket knife.
After being unsuccessful, Cargile was reportedly shot twice by Horne.  Cargile did manage to stab Horne, which led to Horne fleeing the scene.
Cargile informed the court that the gunshots caused severe nerve damage and limited the mobility of his right arm.
Once police arrived on the scene that night, Cargile told them he had stabbed Horne as self defense.
Defense Attorney, Brenda Jordan asked the witness questions about his history of selling marijuana.  Jordan went through the details of where the marijuana came from (Colorado) and how it was weighed and divided.
This jury trial will resume in court Friday, as more witnesses will take the stand for questioning.