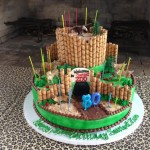 It was a celebration at the Sunset Zoo Sunday afternoon as the day before Earth Day coincided with the zoo's 80th birthday. Many activities were enjoyed by guests such as face painting, live animal encounters with animal roamers walking around the zoo, and a nineteen foot inflatable replica of Earth. Afterwards, the Manhattan High School Drumline lead guests on a parade around the zoo.
Cox Communications was a sponsor for the festivities and brought the "Stone Lion Puppet Theatre" from Kansas City who showcased different endangered species and how humans can play a huge part in helping the situation.
Hyvee also sponsored the event and donated a special birthday cake for the event, as well as enough cake for every guest to enjoy.
Ella Casey, Marketing and Development Officer, said "The Sunset Zoo has always been pushed by the community to be a world-class zoo ever since its very beginnings in the 1930's…. It was great to see so much of the community participate in the festivities because they're the ones who made it happen."