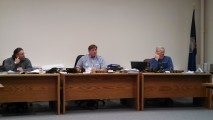 With the first month of the year at a close, department updates were the key focus of Monday's Pottawatomie County Commission meeting.
Leu Lowrey, Public Works Director, talked about snow removal for the county along with the possibility of work moving forward on Belvue Bridge.
Last week, Wabaunsee County signed their approval for Truesdell Corporation to come in and do some additional testing on the bridge to see if it is indeed a candidate for an overlay instead of a complete bridge replacement.
Pottawatomie County made their approval Monday.
Lois Schlegel, County Appraiser, brought forward a renewal of a tax exemption for Liberty Inc to continue until the end of 2015.
Schlegel also talked building permit numbers. In 2013, there was a total of 481 compared to 502 in 2012. These permits included Pottawatomie County and the towns of Manhattan, Wamego, St. Marys, St. George, Westmoreland, Onaga, Olsburg, Belvue, Emmett, and then the appraiser permits.
Tim Eisenbarth, Noxious Weed Director, talked about his search for a baler for cardboard and plastics. Right now the county is renting one, but Eisenbarth feels owning their own would benefit the county.
Eisenbarth also brought up that their recyclable materials has increased. They had 877,358 pounds of materials with a cost of $19,378.
Scott Schwinn, County Sanitarian and Transfer Station / Landfill Supervisor, requested the commission approve April 5th as the Spring Free Day for the county. The motion passed with a unanimous vote.
Betty Abitz, Register of Deeds, told the commission there were 62 mortgages for the month of January.
Gregg Webster, Zoning Administrator, brought the building permit numbers for January and they were above last year at this time. There were nine new building permits this year compared to five last year. The total cost was $2,471,193 compared at to $1,271,150 last year.
Webster also told the commission the website for the Manhattan Area 2035 plan has been launched. This will allow people to get up to date information about the Manhattan Urban Area Comprehensive Plan and the Manhattan Area Transportation Strategy.
There was also a request by the U.S. Geological Survey for a name change of a creek. A misspelling along the way has led to this request to add an additional "n" to Bourbonais Creek to form Bourbonnais Creek.
Due to President's Day the commission will not meet next Monday, but will return on Monday, February 24.