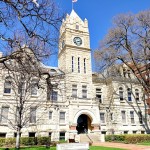 A man charged in a vehicular homicide case, made his final statement during his sentencing Monday afternoon.
Daniel Nitchman (38) appeared in Riley County District Court, alongside his attorney-Richard Seaton.  In September of last year, Nitchman was driving his 2012 Ford pickup down I-70 when he reportedly fell asleep at the wheel.  His vehicle veered off the roadway, entered the north side ditch, and struck 31 year old Samantha Coleman of Abilene, who was standing outside her vehicle.  The accident killed Coleman instantly.
During Nitchman's final statement, he commented- "I'm sorry for what happened.  If I could go back in time and change it, I would."
 Nitchman was sentenced to 12 months in the Riley County jail on the misdemeanor vehicular homicide conviction and was granted probation for 12 months. 
———————-
After waiving her right to a speedy trial in a previous court appearance, 49 year old Christina Love returned to court Monday afternoon for a pre-trial hearing.
Love is charged in the incident where John Burroughs (68), of Manhattan, was found dead in his residence in September of last year.
Love appeared in Riley County District Court Judge, Meryl Wilson's courtroom at 3:30 p.m. alongside her attorney-Jason Hoffman.  A plea agreement was given to Judge Wilson, by Hoffman, indicating Love would like to plead "no contest" to all four charges against her.
Prosecuting State Attorney, Barry Disney shared what the state would attempt to prove if there was a trial: that Love was sitting in a car when a gun shot went off in Burroughs' home.  Love allegedly returned to the home later that night, with James McKenith (33), to ensure Burroughs was dead.  McKenith reportedly found Burroughs still alive and stabbed him.
Judge Wilson found Love guilty, and set her sentencing for June 16th at 3:30 p.m.
———————-
McKenith also appeared in court for charges that stem from the same incident.
McKenith chose not to make a final statement before being sentenced.
Chief Judge, Meryl Wilson sentenced McKenith to a mandatory life sentence, with parole eligibility after 20 years.  Wilson granted McKenith credit for the 235 days he has served thus far.
———————————————————————
The wife of a man who committed a theft by taking a ring from a local jewelry store, appeared in Riley County Court Monday afternoon for sentencing.
Ashley Newbrough (21) is charged with two offenses after her husband, Todd Newbrough, asked her to take the stolen ring out of their house while police searched the residence.  When police arrived, they found Ashley outside the home and asked her about the ring-to which she confessed it was stolen.
Riley County District Court Chief Judge, Meryl Wilson sentenced Newbrough to six months in prison for the possession of stolen property charge, with probation to be served with court services after 12 months.  He also sentenced her to 12 months in prison for interferring with officers.  This sentence will run concurrent with the first, and will have the same probation opportunity.