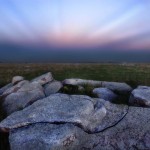 A new photography exhibit by a National Geographic photographer opens up Monday at the Flint Hills Discovery Center.
"Touch the Sky: Prairie Photographs by Jim Brandenburg" is a collection that features 44 framed images by the Minnesota native. The exhibit includes images of the wide-open prairie, herds of bison, grasshoppers, dragonflies, and dove as well as a few panoramic photographs.
Shot in Nebraska, Iowa, the Dakotas, Oklahoma, Illinois, and other states; the exhibit also reveals a depiction of lightening storms and wildfire raging across the landscape.
The exhibit will be on display through May 26th in the 2nd floor gallery and is the fourth traveling exhibit to come to the Flint Hills Discovery Center since it's opening last year.
Admission for the Flint Hills Discovery Center is $9 for adults, $4 for children and $7 for Military, College Students, and Seniors.