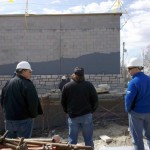 With three months left until the completion of the project, the Pottawatomie County Commission took the opportunity Monday to visit the Justice Center.
Donning hard hats, the group was lead through the site by Dan Rowe, with Treanor Architects.
During their tour, the commission had an opportunity to check out some of the issues and change orders that are before them as the project moves forward.
This opportunity led to the option of rescinding a previous approval of an access door and wall.
Rowe was able to show the commission exactly where the wall and access door to the washers would be and recommended they are not needed as those who will be working in the area will have "a level of trust" established.
Pat Weixelman, Commission Chair, was pleased to hear the recommendation and to hear the savings, telling Rowe "good catch".
The tour wasn't the only item on Monday's agenda as the commission also had updates from departments.
Gregg Webster, Zoning Administrator, brought forth building permits and explained there was a total of 17 issued in March with a total cost of almost $3,000,000. This is about $1,000,000 more than last year at the same time.
Leslie Campbell, Health Administrator, explained Pottawatomie County received a county health ranking of 4, which is better than their ranking in 2008.
Campbell also reminded the commission Take Back day will be Saturday, April 27 at Gene's Heartland in Wamego from 10 am until 2 pm.
The Noxious Weed Department opened bids for their 2013 chemical supplies.
Tim Eisenbarth, department director, gave a recommendation to choose the lowest for each product from each of the bidding companies.
Weixelman explained "they all got a little bit of action on it."
Scott Schwinn, County Sanitarian and Transfer Station Supervisor, was able to bring Free Day back to the county and reminded everyone it will be Saturday, April 6. There will be a limit of five passenger tires for free and anything after that, along with trucks and larger tires, will be half the regular daily price.
The commission will meet again next Monday.