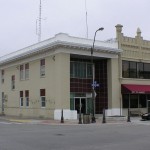 Wamego officials will review the school crossing guard issue. At Tuesday's City Commission meeting, City Manager Merl Page introduced concerned citizen Margaret Feyh, who stated she can't get anyone to taken on the crossing guard responsibility. Her issue is Wamego's main street, Lincoln Avenue, is also Highway 99, and there is an elementary school and high school between 7th and 8th street off of Lincoln Avenue. Feyh told commissioners even though there are marked school crossings and speed limits, it's still a dangerous situation.
Commissioner Bill Ditto asked if the City could study the options and the urgency behind it, and directed Page to facilitate the study, and the possible cost. He added until the Truck Route is completed, there is still heavy truck traffic using Lincoln Avenue, which adds to the dangerous situation. Page said he will be looking at an automated pedestrian crossing light.
Feyh did her homework by calling a USD 320 board member, who said it was the City's responsibility. She also contacted Superintendent Denise O'Dea, who said the Kansas Association of School Boards Attorney told her the district cannot legally employ crossing guards, and the State of Kansas said volunteers were not advisable. Feyh was wanting direction on where to go from here, and the board voted to study the issue and have options available at the next meeting.
Wamego may see traffic lights at a major intersection. City Manager  Page said the City applied for a Highway 24 Corridor Grant to install traffic lights at Kaw Valley Road and Highway 24, put the project out for bid and had only one bidder, whose bid was above the engineers estimate. Page said he contacted the State and they didn't care if it's awarded for more than the original estimate. The only bidder was Ebert Construction at more than $442,000. The City received a grant for $382,000. The Commission approved the bid contingent on review of policy estimates by the City Attorney.
In other business, the Commission approved an Ordinance for Annexation for the property east of the existing school district office, approved a Public Hearing request to vacate a plat at the intersection of Military Trail Road and Columbian Road, which was originally platted as a Planned Unit Development (PUD), but was sold and the new owner wants to do other things with the property. The Public Hearing will be scheduled for October 1st.
In other business, the August sales tax numbers reflect a 3.42% percent increase for the city-wide numbers, while county-wide reflect a decrease of .49%.