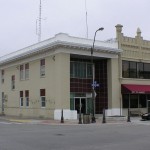 The Wamego City Commission held a Public Forum to update residents on the latest Truck Route Study. At Tuesday's meeting, City Manager Merl Page said the City has been working on transportation enhancement for the last several years because of increased truck traffic and current zoning changes along Valley Street. He added the City and County have applied for Federal Grant Funds for enhancement and upgrades to handle truck traffic, but have been denied twice.
The Public Forum was held to discuss and review the conceptual transportation improvement plan for Valley Street and Balderson Boulevard. Olsson Associates Mark Bachamp went over the aerial views of the targeted area, which will route traffic from Balderson Boulevard, opening the street thru 4th Street to Valley. The plan is to widen the connecting streets to accommodate the necessary increased turning radius for the trucks with long trailers and hauling a wide load. The trucks would turn onto Valley and continue to Hwy 99.
There are three blocks of Valley Street that are residential, with the remainder zoned Industrial or agricultural. The meeting was attended by about 17 area business owners and Valley Street residents. There were a lot of questions, suggestions and answers exchanged, but those present were told this is an ongoing study.