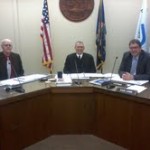 In additional to the already vacant Health Department Director position, the childcare supervisor and the childcare facilitator position will both now be vacant by the end of this week.  Riley County Commissioners discussed this during their meeting yesterday, with Human Resource Manager, Cindy Volanti leading the discussion.
Volanti partnered with County Clerk, Rich Vargo to review the positions.  In doing so, they found that the need for a facilitator is much higher than the need for a supervisor.  Volanti and Vargo recommended the commission hold off on hiring  either position until a new director is appointed.  They also recommended hiring a facilitator, then reviewing how the department is doing before going through with a supervisor hire.
Interviews are still taking place for the department director position.
——–
Construction is currently taking place on the aTa bus building, near the public works department.  The project is currently "on task" and is expected to be finished by the first week of July.
aTa Bus Director, Anne Smith mentioned ridership is currently at a high, with 72,074 rides given during the first quarter of the year.  Besides growth in the company, growth in economic development has also happened.  "Every $1 invested in public transportation,  there is $4 invested in economic development".
Funding is being threatened at the state level for non profit organizations, such as aTa bus.  Smith shared her concerns with the commission, saying "being a non profit is part of our success, and why we work well regionally.  We'd like to stay that way."