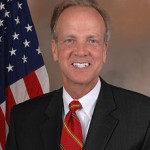 "One thing about Kansas and rural America is that we rally and respond to those in need"–those were the words of U-S Senator Jerry Moran of Manhattan, who toured the tornado damage in Marshall County Wednesday. He saw the two businesses that were leveled,but plan to rebuild… as well as 20 to 30 country homes that were damaged by strong winds, with roofs demolished.
The Senator toured the area, with the help of law enforcement and city and county authorities. He doesn't foresee qualification for federal assistance at this point, but says there are other options. He says there may be some economic development grants to help the businesses. But Moran says the help of others, even strangers, was evident in the Marysville area. Moran says he was pleased to see folks working together in the damage area though.
An EF-2 tornado went through the area Monday night, with winds of up to 135 miles per hour.
Moran was also concerned about the amount of rain the area has received since, but is relieved no one was injured or killed in the Marshall County storm.