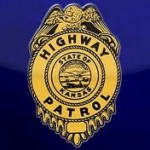 Friday morning, KMAN told you about a multi-vehicle accident that occurred around 7 am, since then additional information continues to come in.
According to the report, all vehicles were east bound on K-18 along the Kansas River Bridge, when the first vehicle a 2008 Chevrolet Silverado driven by Willam Bratton Jr, 37, of Junction City lost control on the icy bridge and struck a 2009 Chevrolet Silverado driven by Donald Phillips, 50, of Junction City.  A third vehicle, a 2001 Chevrolet Silverado driven by Roger Wilcoxson, 63, of Clay Center, also struck both vehicles and came to rest along the bridge.
The Kansas Highway Patrol reported Friday there was a fatality and it has been released that Willam Bratton, Jr  had exited his vehicle for an unknown reason and fell off the bridge.  Circumstances surrounding how or why he went over the bridge rail are still being investigated.
KMAN continue to bring you updates as they become available.