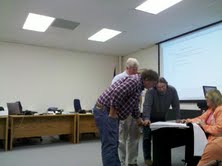 The Pottawatomie County Commission had only a few items to tackle at Monday's meeting.
To begin, Jim Jenkins, assistant director of public works, informed the commission that again an application was made for the Safe Routes to Schools from the Kansas Department of Transportation.
Next up was a report concerning the ATA bus by Anne Smith, director.
Smith explained during her presentation there has been over 72,000 rides within the last three months.  But, last month alone there was 87 trips in Pottawamotie County.
The final topic was the weekly update of the new Justice Center.
Trisha Brook Fruent, Construction Manager for SMH Consultants, gave a rundown of the progress including how the courtrooms are coming together and that the glass was now being put into the building.
The estimated date for completion continues to be the end of June. 
Commissioners are still unsure when, but they are certain the public will have a chance to view the building once construction has been completed.
The commission will meet again next Monday.