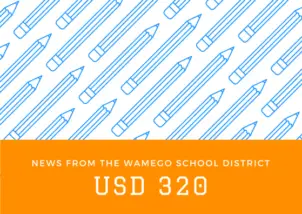 Wamego's USD 320 Board of Education meeting addressed all the components associated with the  approval of the bond election.  At Monday's meeting, Board President Rob  Adams called on Dr. Mary Kaye Siebert, who thanked everyone on behalf of Superintendent Tim Winter, who was not present, for their assistance in the positive outcome of the bond election.  Siebert said the outcome was a strong vote of confidence for the District and staff.
Harold Mayes of Agler & Gaeddert went over the 2015 audit results.  According to Mayes, the audit is performed under requirements of the Kansas Municipal Audit Guide and governed by State statute.  The District opted out of GAAP (General Accepted Accounting Principles).   The overall results of the audit was a "good clean and unqualified opinion report", which means they didn't find anything out of line.
In other business, the Board approved a new course called Leadership Service in Action, which will be taught through the FCCLA due to the increase in human services and hospitality leadership skills being required for career readiness. Approval was given by a vote of 6 to 1, with board member Bruce Johnson opposed.
Dr. Mary Kaye Siebert presented the results of the state assessments in Math, English Language Arts and HGSS.  According to Siebert, the assessments averaged the Level 2 and above in all grades and all courses in comparison to the State of Kansas.  Level 2 is Basic and at Grade Level.  Wamego measured well in all courses except 6th and 8th grade Math. They are trying to come up with a reason for the education gap in those grades.
In other business, the Board approved a new WEX Fleet Gas Card that will eliminate all other credit cards used to purchase fuel for the Districts vehicle fleet.   There were multiple benefits to go with this type of card for fleet services.  Approval was given by a vote of 7 to 0.
In other business:
The Board adopted the resolution authorizing the bond sale by a vote of 7 to 0.
Approved the Design contract presented by BBN Architects by a vote of 7 to 0.
Approved the CMAR (Construction Manager at Risk) method of Construction delivery (7 to 0).
Reviewed the CMAR schedule and process.
Selected an 8-member committee to work with the CMAR during construction(2 board members, Superintendent, 2-School Administrators , Transportation Director, 2-BNN staff)
Discussed the Advertising Schedule
Reviewed and approvedthe RFQ (Request for Qualifications) by a vote of 7 to 0.