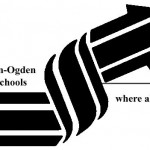 1st grade teacher at Northview Elementary School, Ashley Messick and Special Education Teacher at Anthony Middle School, Dr. Casey Ewy were selected as the 2014-2015 teachers of the year for the school district.
Messick commented, "My greatest accomplishments have to be my students.  Seeing my first graders tackle and push through all of their obstacles amazes me every year.  Helping them through their struggles and sending them on as brighter, productive citizens has been and will always be my greatest accomplishment".
Ewy stated, "My greatest contributions and accomplishments in education have to do with working with students who have limited past success in school.  These are the ones that are labeled as "difficult" or "troubled" The students in my program are not typical learners and they lack extensive support outside of the school.  My goal is to get to know them as individuals and people."
Originally, each USD 383 school was asked to nominate a teacher to be their Teacher of the Year candidate.  The Manhattan/Ogden NEA Master Teacher/Teacher of the Year committee reviewed all of the nominees and selected Mrs. Messick and Dr. Ewy as the elementary and secondary candidates.
Full comments from each of the teachers can be found at 1350kman.com