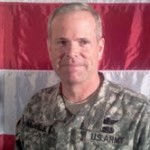 Veteran's Day has a history dating back to World War I and has since grown in the scope and magnitudes of celebrations.
On Friday, the City of Manhattan had their annual Veteran's Day Parade down Poyntz Avenue, followed by the Ceremony at the City Hall.
During the ceremony, a number of people spoke including Mayor Loren Pepperd and Riley County Commissioner Karen McCulloh.  Students from the district came to perform and show their support for the troops.  All of this led up to the keynote speaker Brigadier General Donald MacWillie.
During his speech, MacWillie states " We talk about the fact that we don't mark this day each year because of the victory in World War I.  It's not a victory celebration, although we are very proud of that.   We mark the day for celebration of those who made the victory possible."
Due to the holiday on Sunday, city and county offices will be closed on Monday.
Below is the entire Veteran's Day Celebration.