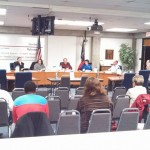 The Manhattan/Ogden USD 383 school board met for their winter retreat Wednesday evening at the Robinson Education Center.  Two topics were listed on the agenda for discussion, the first of which involved diversity.
Student and employee demographic statistics were provided for each of the public schools.  67% of the district population, for the 2012-2013 school year, was white.  Hispanics ranked next with 12%, and African-Americans with 8%.
As far as employee percentages, for the 2013-2014 school year:  88% of the employees within the district are white, 6% are hispanic, and 4% are African American.
The Diversity Coordinator position has been vacant for a couple of years, and that was a major part of the diversity discussion.  The school board not only discussed filling that position, but also discussed the options of recruiting a group of people that would assist in the effort.
Virtual education was the second topic of discussion during the meeting, as board members viewed various virtual options.
Members seemed to agree that they do not want to see high school students utilize other online education programs from other schools, as they will lose those graduates to local cities such as Lawrence, Wichita or Topeka.
The board expects to make progress on this topic during the next board meeting, which will be held Wednesday, March 5th at 6:30 p.m.