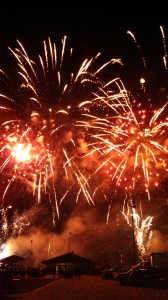 Thousands of spectators filled the Recreation Complex in Wamego to witness the annual Fireworks Show on Independence Day.
The show also drew individuals from all over the state, country, and even from overseas.
"There's people that come visit family members that are within the region, and they choose to travel here from overseas just to see their family members. It's very flattering to have people come from Kansas City or Wichita or Salina or you name it and chose to spend their 4th in Wamego," said Lance White, volunteer pyro crew member.
The display featured 16,500 shells and lasted for nearly 30 minutes.
Before fireworks lit the sky, 4 Big Red One musical groups entertained the crowd with classic tunes such as Kansas City Here I come, the Washington Post, and Stripes.
"We're here just to try to put on some live music to show the rest of Kansas and Wamego what we do as our job in the Army. We are musicians, that is our job so we get to come out here and just put on a show, hope to entertain some people and enjoy the fireworks with everybody," said Staff Sergeant Jennifer Champagne, who also sings for the Big Red One's rock band, AWOL.
Many who have witnessed Wamego's annual Fireworks Display call it the best show they've ever seen; and in 2011, it was officially titled The Best Public Display in the state by the Kansas Top 150 ranking.