The alternate truck Route through Wamego was reviewed at Tuesday's City Commission meeting. Olsson Associates Mark Bachamp went over the revisions to the K-99 Truck Route Study. The revisions were made after a Public Forum in mid-May, where the public had an opportunity to offer suggestions. There were about 15 concerned citizens in attendance at this meeting too.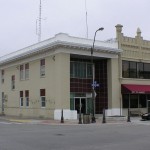 The proposed plan is to route trucks from Balderson Boulevard south across 4th street, turning onto to Valley where they could connect onto Hwy. 99. According to Bachamp the working group has looked at all the suggestions, and most of the discussions were public safety concerns. Those in the audience again asked if 4th Street was considered as an option. Making 4th and Valley Streets both one-way was suggested. Mayor Bob Morse said 4th Street has been looked at for many reasons, and it is not viable solution for tax payers. He added since 4th Street runs parallel to the City Park, safety issues would be a concern since there is a plan in place to expand the City Park to the South.
The conclusion of the Commission is Valley Street is the best Truck Route option. Mayor Morse called for a motion to move ahead with the plan as presented. The vote was unanimous.
The Commission also amended its open meeting ordinance. At Tuesday's meeting, City Manager Merl Page said the State made modification to the Open Meeting Act, and the City of Wamego wanted to make sure the language meets the State Code. The amended portion reads as:
"The minimum number of governing body members required to be present at any regular or special meeting in order to conduct city business shall be as established under the Kansas Open Meeting requirements." And, that all ordinances or parts of ordinances in conflict herewith are hereby repealed."
In other business, the City sales tax show an 6 point 8 percent increase, while the County-wide numbers are down 3 percent, comparing the same 5 months a year ago. Page added that this does not reflect a reduction in retail sales, but the way the State calculates the distribution.