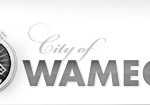 The Wamego City Commission heard the annual reports from two entities.  At Tuesday's meeting, Convention and Visitors Bureau (CVB) Chair Chris Hupe went over the highlights of 2013.  He said the CVB had another solid year with the expansion of a local motel and overall community growth.  He said Wamego may be small in population, but in the world of tourism, Wamego has become mighty.  The Oz Museum had 30-thousand registered visitors, with 18-thousand  out-of-state, 11-thousand within the state and over 1-thousand international visitors in 2013.
Hupe added with Oz celebrating 75 years and its universal interest, Wamego continues to enjoy unsolicited media exposure both regionally and nationally.  Wamego's OZ Museum was recently listed as a Top 10 Destination Place by a major publication.
In other business, Commissioner, Cliff Baughman nominated Thomas Beem to replace Commissioner, Larry Fechter. The vote was unanimous. Page said Beem will be contacted and if he accepts, the oath of office will be done at the next meeting.
Since the CVB is part of the Wamego Chamber of Commerce, Executive Director Megan Umscheid reported another successful year for the Chamber, with the financial support of its 146 members and volunteers that put together many events and activities that continue to promote Wamego.  Commissioner Bob Morse said it's the spirit of the community that makes it all happen, and Wamego is a jewel to those that visit.
The Wamego City Commission wants to batten down financing for the Truck Route.  City Manager Merl Page asked the Governing Body for direction on how to move the Industrial/Commerce Drive project (formerly known as Truck Route) forward.  The project is a joint effort with the County, and after numerous meetings and discussions on funding the project, nothing has been formalized.  A motion was made and approved to draft a proposal for a 50/50 split with the County.
In other business, the Commission approved a Part-time Personnel Policy resolution, which will cover all Seasonal and Part-time employees.  Page said the City formerly used contract laborers, and at the suggestion of the auditor, decided it was best to add those laborers to the payroll.    Commissioner Bill Ditto made the motion to approve the resolution contingent on City Attorney Jake Pugh's review and acceptance.  Approval was unanimous.
The City of Wamego will begin receiving hydro power on June 1st.  City Manager, Merl Page wanted the Commission to be aware the City was notified they will be begin receiving their allocation of 300 kilo watts of hydro power on June 1 from the Southwest Power Administration.   He said the Commission needs to recognize they will be getting the allocation and will need to begin paying for it too.