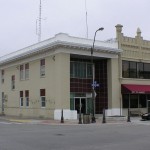 Three Wamego citizens received special recognition by the City Commission. At Tuesday's meeting, Mayor Bob Morse recognized Police Officers Jason Powell, Derek Gray and Dispatcher Sarah Salinas for the August 4th rescue of Kayla Harding after she accidently fell into the Kansas River. After Salinas received the 9-1-1 call from a private citizen, she dispatched the officers, who both arrived at the same time. According to Officer Gray, who went into the water to pull the child to safety, there was already a citizen in the water up to his neck. The rescue ended well and the officers were all given a Life Saving Certificate.
Wamego officials also updated a delinquency notice. At Tuesday's City Commission meeting, City Manager Merl Page said the City changed the Code ten years ago to include a reconnection fee dealing with a delinquency and termination of services. What was not covered in this change was the customer could pay the 40 dollar reconnection fee by credit card. The City was recently given the approval by the Commission to accept credit cards for all of the City services. The change to the City Code was done through an Ordinance and was approved by the Commission.
In other business, the commission approved the rental of a new postage machine through NeoPost contingent on review of the agreement by the City Attorney. Page said if everything checks out, they will bundle this with the stuffing machine for the monthly bills. He said the new machine is necessary because the current postage machine will no longer be serviced after the first of the year, so he sought proposals for the new system.
According to Page, the sales tax numbers are still positive, with the City's up 2.66%, and for the first time this year, the county-wide tax saw an uptick of .09% above where it was at the same time last year.