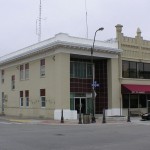 Wamego officials addressed the concealed carry issue at Tuesday's City Commission meeting. City Attorney Jake Pugh announced the Kansas Legislature recently passed House Bill 2052 and Governor Brownback signed it into law. The bill authorized concealed carry in State and municipal buildings. Pugh said the bill allows for prohibition in some buildings, and the cities can opt-out because there are different avenues the City can take. The law allows for an extension to January of 2014, and application needs to be made by July 1st, 2013.
Pugh said it's in the City of Wamego's best interest to file for an extension. A motion was made to file for the extension in order to study the issue further. The vote was unanimous, and Pugh stated he would draft the letter.
In other business, the Commission approved the request from Community Health Ministry to hold a Back to School Bike Safety event at the Sports Complex on August 10th.
Summer is moving forward in Wamego. At Tuesday's City Commission meeting, Parade Coordinator Grant Meinhardt was given permission to hold the 4th of July Parade on Lincoln Avenue. He said this year, bleachers will be placed in front of the Columbian Theatre, and the parade will be announced by Charlie White. According to Mayor Bob Morse, this will be the 1-hundred 40-Second year for Wamego's 4th of July Parade.
In other business, the Commission approved the proposal for the purchase of and installation of a crane at the Power Plant on the recommendation of the construction supervisor, Construction, Inc., at a cost of over $47,000.
The Commission approved two change orders for the power plant expansion. According to Building Director Mac Campbell, it was determined the foundation for the generator needed to increase from 7 feet 9 inches to 8 feet 9 inches at an increased cost of over $2,400. The other change order was to remove the sales tax of over $900 from the concrete purchase, for a net change order of over $1,400.
A third change order was approved for the Julie Drive project, increasing the Contractor's contract by over $7,800 for a total change order of over $37,000. This change order completes the Julie Drive project.