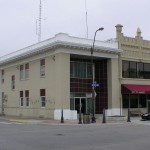 The school crossing guard issue was reviewed by the Wamego City Commission. At Tuesday's meeting, City Manager Merl Page said he had looked into several options since the issue was brought up at the last meeting by Margaret Feyh and USD 320 Superintendent Denise O'Dea. One of the options was a pedestrian activated crossing, but had no firm numbers to share. Page added that the cost to relocate the Lilac Lane and Highway 24 crossing 80 feet to the East, would cost about $50,000 and assumed the cost of a new crossing light would be about the same.
The other option was to hire a crossing guard under the same terms as the current crossing guard at the Middle School, two hours per day for 186 school days at a cost between $3,500 to $4,000 per year.
Ditto brought up the issue that if there is a pedestrian-activated crossing at 8th and Lincoln Avenue, it may suggest to the public driver that they do not need to stop at any of the other intersections along Lincoln Avenue, which are marked crosswalks from 4th to 8th street. There were other suggestions brought up, but no decision was made. Page did say that he would like to get with O'Dea after all the numbers are in.