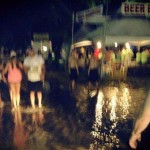 The 18th annual Country Stampede is underway at Tuttle Creek State Park. However at about 7:15 Thursday night attendees were asked to seek shelter until lightning cleared. No Justice and The Cadillac Three were able to perform before the delay. Power was lost to the stage at about eight, but it was nine before the stage was dried off and prepared. Little Big Town performed nearly two hours late at about 11:30.
Despite the threat that lightning presented Riley County EMS Director Larry Couchman says that concert goers are in safe hands. He says that there are first aid stations on both the festival and camping grounds that are fully staffed by personal from Blue Township Fire and Rescue. Emergency medical services are also being provide from ATVs that will be roaming around the area.
Weather for the rest of the weekend looks to be clear and hot, so those attending Stampede should take the proper precautions to protect themselves from the heat such as wearing sun block and proper clothing, as well as keeping properly hydrated with non alcoholic beverages.