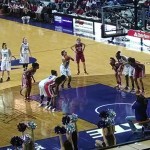 During pregame warm-ups, most of the K-State shots were falling. Turns out, that was a preview of what was to come.
The Wildcats tallied 51 points on 60% shooting, and erased a five point deficit enroute to an 86-78 win over Oklahoma at Bramlage Coliseum. They also hit half of their three pointers, and made 75% of their free throws. The Cats ended a 13-game losing streak to the Sooners; their last victory over Oklahoma came in 2004…also here in Manhattan. The 86 points are the most they've scored this season.
Leticia Romero dropped 23 points and Katya Leick added 22 to pace Kansas State (9-11/3-6) to the win. Romero also snagged a game high 10 rebounds, and missed a triple double by just one assist. Ashia Woods and Kindred Wesemann also tallied double figures for K-State, in front of an announced crowd of 4,306 on a night when the Wildcats celebrated "Girls and Women in Sports Day"
Oklahoma (13-8/4-4) jumped out to an early 9-3 lead, and led for all but about three minutes of the first half…at times by as many as 8 points. The Sooners hit three of four free throws in the final minute to take a 40-35 advantage into halftime. But in the second half, Leick scored eight of the Wildcats' first ten points to chip away at the deficit. Then, Romero hit a wide open three with just under 11 minutes left to give K-State their first lead in nearly 20 minutes of game time. After a seesaw battle for the next few minutes, Romero connected on 4 straight free throws to give the Cats the lead for good. Oklahoma cut it to as little as three a few times, but could not catch up. Ashia Woods added the exclamation point by rebounding a Romero missed FT and scoring a layup with 1.8 seconds left.
"That was K-State fight, K-State intensity, K-State teamwork", said Head Coach Deb Patterson. "That was as good a game as I could've asked for".
Wesemann got the crowd going with an emotional celebration after being fouled on a made layup. The resulting free throw tied the game at 51. "Even when we were down, it was like 'let's go'…that's the kind of energy we had", said the freshman guard.
The Wildcats hit the road for their next two contests, starting with the rematch with Iowa State in Ames this Saturday. K-State defeated the Cyclones 76-60 just 11 days ago at Bramlage. Tip off is set for 8pm, with pregame coverage beginning at 7:30pm on 1350 KMAN.