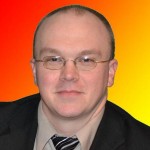 A Manhattan man who announced his candidacy for the 67th District of the State House of House of Representatives in February, is withdrawing his candidacy. Dan Hogan recently received the Libertarian Party nomination and while he gladly accepted the nomination, events occurring after the nominating convention have required him to withdraw his candidacy for the seat.
Hogan adds shortly after being nominated he received a job offer in St Louis, and accepted it. While he says he has thoroughly enjoyed his time here in Manhattan, this move is the right one for his family and him.
Hogan has been in contact with the Libertarian Party, and a search is underway for potential replacement candidates. He encourages any interested Libertarians in the 67th District to contact the Libertarian Party of Kansas. 
He also says he would like to wish good luck to incumbent Representative Tom Phillips, and any other candidates who might become involved in this race.
Hogan has been working as a conductor for the Union Pacific Railroad. Last year Hogan tried for a position on the Manhattan City Commission.