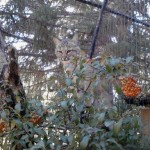 Sunset zoo's trails are filled with babies this spring. A one month old chimpanzee, an eight month old colobus monkey, and the newest edition , a young bobcat kitten. The new kitten is a little over five months old and came to the zoo through the Milford Nature Center Wildlife Rehabilitation program. For the last two months, the orphaned kitten has been behind the scenes in the zoo's quarantine holding area while the staff ensured the animal was healthy.
The bobcat is now eating solid foods through the zoo's feline diet, which consists of ground meat enhanced with vitamins and nutrients particularly helpful for big cats.
The zoo invites the public to help name the new addition, along with the baby chimp at the their annual Wine in the Wild event co hosted by the Friends of the Sunset Zoo. Which will be held on Saturday June 1st.