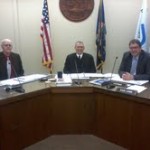 Winter weather has arrived in Riley County, and Noxious Weed Director, Dennis Peterson seemed relieved to finish all of the mowing in time.  During Thursday's county commission meeting, Peterson shared details about one of the mowers that seems to be wearing down.
Three mowers are used to complete the mowing in the county- one primary mower used full time and two secondary mowers used part time.  The primary mower was recently replaced, but now the "third mower in line" is in need of help.
Peterson said the department has spent over $51,000 in repairs in the past five years on this one mower in particular.
During Monday's commission meeting, Budget and Finance Officer, Johnette Shepek will return with some projected figures so the commission can formulate a decision on what to do.
————–
The majority of the meeting involved routine updates-including staff reports from County Appraiser, Greg McHenry and Planning and Special Projects Director, Monty Wedel, as well as executive session discussions.