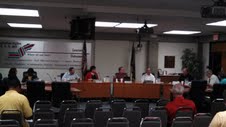 The 2013-2014 school year has official began as the new board has taken their seats at the table.
At their meeting Wednesday, Aaron Estabrook, Marcia Rozell, and Pat Hudgins joined the others to begin their term.
During the meeting, a new president and vice president were chosen and Curt Herrman will be holding the position of board president and Leah Fliter will be vice president.
The board also went into a brief discussion of budget, specifically the parents as teachers budget commitment, which the board unanimously approved, and the federal title program budget for 2013-2014.
According to Carol Adams, Executive Director of Teaching and Learning, as a result of sequestration, the USD 383 Title I funds have been reduced 11.03% or $120,795 for 2013-2014.  Though the district has been able to hold some funds over that may be used to help suppliment the reduction at least for a year or so.
No action was taken on the budget at this time, as the board has decided to hold an open forum at their next meeting, Wednesday, July 17, for the public to have their concerns heard on where the funding should go.