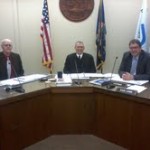 John Jobe's first day as the Riley County Extension 4-H Agent was Monday, and County Extension Director, Jennifer Wilson brought him in to meet the Riley County Commission during their meeting.
Jobe received both his undergraduate degree and graduate degrees from Kansas State University's College of Human Ecology.  Although he is originally from Dodge City, he has been living in Manhattan the past few years working at the Boys and Girls Club.
Jobe said he does not have any 4-H background, but he is excited to continue working with the local youth.
After introducing Jobe, Wilson returned for a second agenda item.
Every year, the fair board makes purchase requests  to improve portions of the fair grounds.
This year, the fair board came up with four requests:
electrical upgrade in the hog and sheep barn
purchase of additional storage trailer
upgrade of speakers in arena
run permanent water line behind arena
The budget currently spent is just under 75%.  If all of the purchases were approved, the fair board would have spent 94% of their budget.  This is well over the 90% request the commission has asked all of the departments to keep their budgets at.
Commissioner, Robert Boyd said "the electrical update is about two decades overdue", but said he wanted to wait on the trailer and speakers.
Commissioner, Ron Wells commented "I'm fine with all four requests, but not thrilled with being at 94% of budget".
Commission Chair, Dave Lewis seemed to agree with Wells, and recommended just holding off on the speaker upgrade.
The commission all agreed to approve three requests, not including the storage trailer.  This will now put the fair board at 90% of their $99,345 budget.