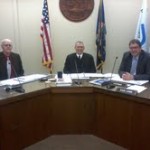 A long list of "end year project requests" were submitted by various department heads, to Information Technology/GIS Director, Robert Nall.  The list was brought before the Riley County Commission during Monday's county commission meeting.
Commissioner, Robert Boyd and Commission Chair, Dave Lewis provided recommendations on projects that were necessary this year, and projects that could wait until next year.
Some approved projects included-laptops, label makers, scanners and printers for the health department and a desktop for Emergency Management.  A new printer for the museum, as well as sound masking for the health department, were among the items that will be placed on next year's request list.
———————
Other department heads and department officials, including County Clerk-Rich Vargo and Budget and Finance Officer-Johnette Shepek, shared routine updates.
During the afternoon portion of the meeting, the first set of department head evaluations took place in executive session.