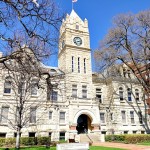 A status hearing was held involving a fatal crash that occurred back in September.
Daniel Nitchman (38) made his first appearance in court Monday afternoon in front of Judge Meryl Wilson.
The case was scheduled for another status hearing on January 6th at 2:30 p.m.
Previous story:
The victim of a fatal crash KMAN first told you about Sunday afternoon has been identified as 31 year old Samantha Coleman of Abilene.
Coleman was the driver of a 2003 Chevy Trailblazer broken down on the side of I-70, and was outside the vehicle at the time she was struck.
The driver of the other vehicle involved, a 2012 Ford pickup, has been identified as 38 year old Daniel Nitchman. The Kansas Highway patrol indicates Nitchman fell asleep, causing the truck to drift off the road into the north ditch, striking Coleman.
The actual time of the accident is unknown, but it was reported shortly before 4:30 Sunday afternoon. The accident occurred at milepost 321 westbound, or seven miles east of I-70/s junction with K-177.