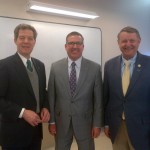 "A significant addition will be in the budget for K-State, salary caps for university individuals, and an initial investiment from the legislature on renovation of the architecture building as well as enhancements to the program".  These are the discussion topics Governor, Sam Brownback spoke to Kansas State University leaders about Monday afternoon.
After traveling to the three other universities within the state, Brownback ended his tour in Calvin Hall on the K-State campus at 4 p.m.
Brownback said it's interesting to share the good news of restored funding this year since he was traveling around this time last year to share the details when the funding was cut.  Besides the restored funding, the enhancement funds were also another big announcement for the governor.
Although Governor Brownback could have easily issued a press release on this topic, he said he felt it was important to visit the universities in person to talk about the importance of higher education.
"This year I am complementing the legislature for funding the region's institutions", Brownback commented.
As far as the future of K-State, Brownback said he expects "great growth", especially as the Kansas Department of Agriculture and NBAF come to town.