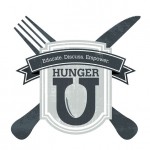 Hunger U is an internationally-known effort that strives to end hunger on a local level by raising awareness at college campuses across the nation. Monday and Tuesday, Hunger U crew members set up shop in Bosco Plaza, just outside the K-State Union.
Marshall Dulch, an Iowa State student who took a semester off to tour the country with Hunger U, shared his experiences in the fight to end hunger nationwide.
"This is the second time we've been on the K-State campus with the Hunger U tour, and it's the first campus we've actually returned to," Dulch mentioned when speaking about the excitement of this tour, "Just to speak to [these students]that are so passionate and eager to get involved…It's been fantastic."
Dulch was one of many crew members on campus interacting with K-Staters. Another Hunger U crewmember, Mollie Dykes, told KMAN she had heard from a K-State professor that the poverty rate around Manhattan is 25 percent, which makes hunger efforts at the local level even more important for the K-State community.
"Hunger has actually been called the worlds most solvable problem," Dykes said when speaking about the interest that students show as Hunger U travels from campus to campus, "[When we mention that fact,] students ask what they can do [to help]."
The Hunger U crew says there are so many different ways to eradicate hunger, and supporting your local food pantry is one of them.