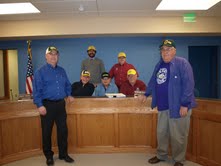 Wamego's getting ready for the Kansas Sampler Festival.
At Tuesday's City Commission meeting, Merl Page, City Manager, introduced Kansas Sampler Committee members Michele Crisler and Julie Roller for an update.  According to Roller, registration is closed because every possible spot is filled for the event.  She said this has never happened before in the history of the Festival.
According to Roller, there are over 300 exhibitors registered.   These include Kansas product vendors, food vendors, entertainers, historic performers, and Kansas communities promoting travel and tourism.  In addition, there will be a Race Car from the Auto Racing Museum, a vintage airplane built  by John Miller, and the Kansas Fish and Game's Mobile Fish Aquarium all on display.
Roller said this is shaping up to be the largest Kansas Sampler Festival ever, and held in the smallest Kansas community ever.   She said there's still a lot of work to be done and volunteer positions are available.
Interested volunteers can contact any of the following:  Bunny McCloud at 785-456-8515, Julie Roller at 785-456-9776 or the website www.kansassamplerfestival.com.  Also, for answers to any questions, please email ksf@wamego.net.
—
It's been another exciting year at the Rec.  This is according to Kristin Jones, Wamego's Recreation Director, who went over the Recreation Advisory Board's Annual Update at Tuesday's City Commission meeting.
Jones said there were over 1500 participants in the various programs, with the Tykes programs maxing out every year.  She said there are a number of new programs being offered this year, adding to the list of existing programs.
The Commissioner's complimented Jones on an outstanding job.
In other business, the Commission approved the annual tax abatement renewal for both Homestead Housing and Caterpillar.  The Commission approved an ordinance raising the meter testing fees from $25 to $100.  The new fee is imposed on the customer if the tested meter proves to measure within the benchmark two percent of the correct amount.  If the meter does not measure within the two percent amount, there is no charge to the customer.
In addition, the Commission approved the street closure request from Jessica Lane for Central Elementary's Spring Festival Fundraiser on April 25th.   And, the City will further review the Utility Extension Request by Jim Meinhardt for water and sewer service at the 18035 East Highway