- The Manhattan High boys golf team finished 3rd at the 6A state meet, led by Cole Dillon in 6th place individually with a 4 over par 76 at Topeka Country Club.  Shawnee Mission East won the meet with a 300, Washburn Rural was second with a 308, with the...
Read More »
---
Kellen Myers laced a two-run double into the left center field gap to send Manhattan High to state with a 6-5 nine-inning victory over Lawrence High on Tuesday night in the 6A regional final.  The Indians overcame three deficits to the Lions in the game, including a RBI single from Bret Fehr to send...
Read More »
---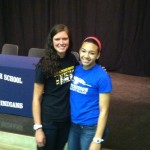 A pair of Manhattan high stand out athletes have signed their letters of intent to play collegiate athletics. Jessie Kujawa and Par McNair will be taking a step forward into the world of collegiate athletics. Jessie will be playing volleyball at Fort Hays State while Par will...Read More »
---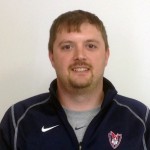 Manhattan high school has announced that Benji George has been named the new head boys basketball coach for the Indians.
George has been involved with the MHS basketball program since 2008. He began as the freshman assistant coach up until 2011 where he then...Read More »
---
The MHS girls basketball team ran thru the Centennial League at 13-0 and made their second trip to the 6A state touranment in the last three seasons, where they finished 4th.
All-league honors were handed out on Tuesday as Scott Mall was named Centennial League coach of the year and...Read More »
---
« Newer Entries
Older Entries »